Blinkist is a professional book summary service that allows you to understand the key insights from the world's best non-fiction books in 15 minutes or less.
If you ever…
Struggle to finish a non-fiction book,
Feel overwhelmed by all the new books that are released,
Can't decide which book to read next,
…or simply don't have time to read all the books you want, Blinkist can help you. In this guide, I will explain everything there is to know about it.
My goal is to help answer all your questions, such as:
What is Blinkist?
How does it work?
How does it feel to use Blinkist?
What's the difference between the desktop version and the app?
How much does Blinkist cost?
Is the Blinkist app free?
To do so, I will walk you through their desktop app/web app step by step. You can also watch this guide as a video:
If you want to read on, use the table of contents below to jump to whatever section interests you. You can also scroll back up here by tapping the little arrow in the bottom right corner.
If you're looking for a review of the app, check out my Blinkist review.
tl;dr Summary: Blinkist in a Nutshell
Blinkist is a startup from Berlin, Germany. It was founded in 2012 and has raised almost $35 million in VC funding to date. They have a team of about 60 people.
The Blinkist team reads books, identifies the key insights, and explains them in an easy-to-digest, 15-minute summary format.
Each key insight is called a 'blink' and fits nicely on one page. The app is free to download and so is setting up an account. If you do, you'll be able to read the daily pick. This is one of their 5,500+ book summaries, and it changes every day.
If you want full access to their service and all its features, you'll need to pay for Blinkist Premium. It is available as a monthly plan for $12.99 or an annual plan for just $6.67 per month. That's 50% off, meaning even if you just use it for six months, the annual plan is a much better deal. All prices are the same in € if you're in Europe.
Besides unlimited access to every single one of their over 5,500 titles, Blinkist Premium includes the following features:
Audio versions for the majority of their summaries
Saving your entire library offline
Syncing your highlights to Evernote
Sending your favorite summaries to your Kindle
If you're not sure, you can sign up for a free, no-risk, 7-day trial. You'll need to add payment data but can cancel at any time before you get charged.
Blinkist Basics: The Library
After you've created your account using email or Facebook, you'll be redirected to your library. This web app is the default page you'll now see every time you go to blinkist.com. I recommend saving it as a bookmark.
Once you've added a few books, which we'll get to in a minute, it looks like this: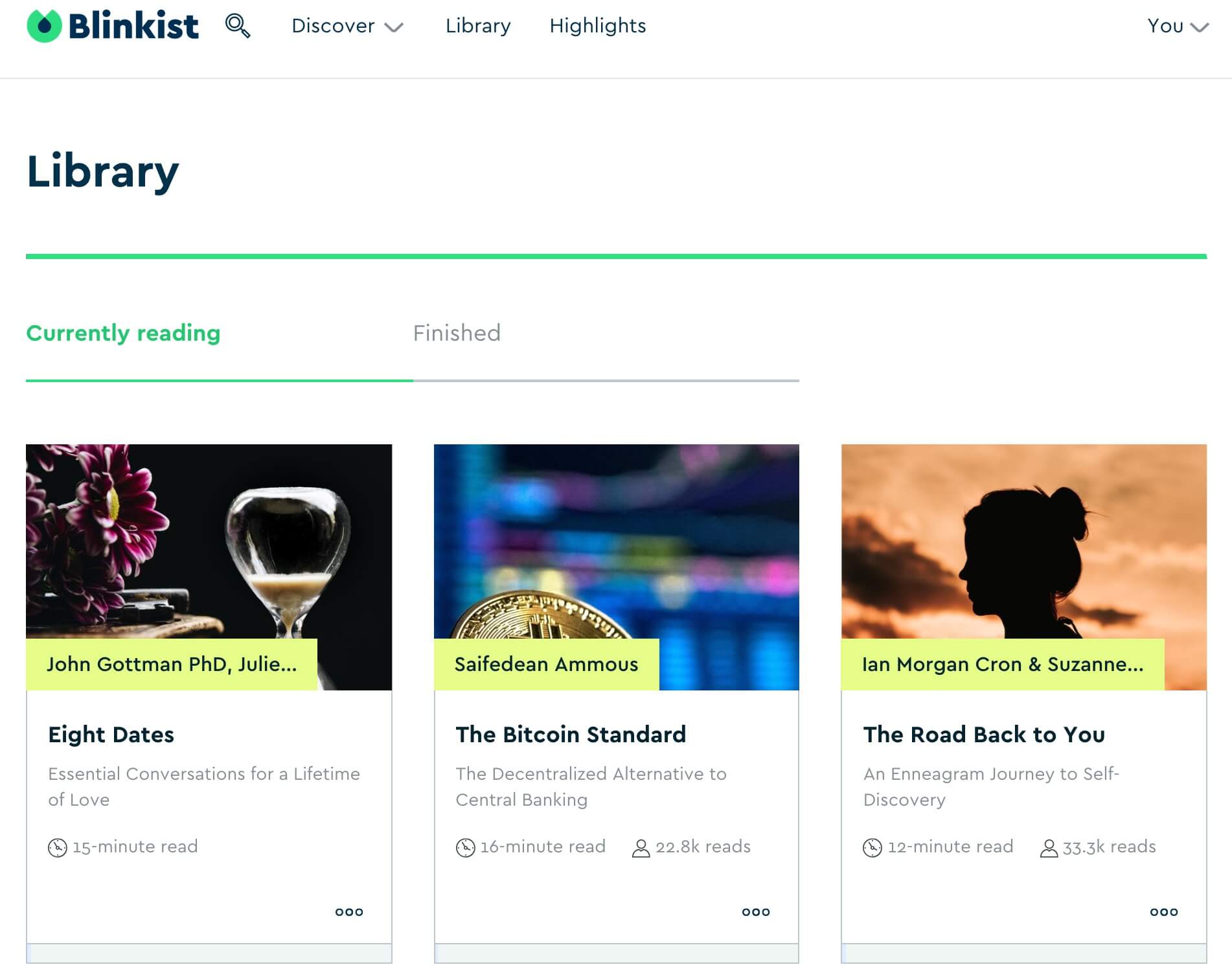 Using the library is very straightforward. You have two tabs, "Currently reading" for titles you've recently added or started reading and "Finished" for all the summaries you've already completed.
The preview for each book includes an image, the title, subtitle, author, the time it takes to read, and how many people have read this summary on Blinkist. When you click on one, you'll instantly be taken to the first 'blink' of that particular book.
If you click the three dots in the bottom right corner of a preview, you can remove the book from your library, buy a copy via Amazon, or send it to your Kindle, which is an advanced feature we'll cover later.
This minimalistic setup is great because it helps you save time. As long as you keep your library filled up, you can go there and instantly continue reading without getting lost in some rabbit hole. Speaking of a full library, let's see how you can add titles.
Blinkist Basics: Discovering & Adding Titles
There are four ways to add books to your library:
Search for a specific book title or author.
Browse Blinkist's 27 categories.
Discover the popular books section.
Look at their most recently added titles.
Let's walk through them one by one. We'll start with the easiest and most focused ways to find specific books, and then move to more random modes of spontaneous discovery.
1. Search for a specific book
In the top left corner of your library view, you'll see a magnifying glass icon. Click it and a search bar will appear. Enter a keyword, title, or author's name, and it'll update in real-time. Click on any result, and you'll see an expanded overview of the book. It looks like this:
It contains a little more information than the preview in the library, like a brief synopsis, author biography, and who the book is best suited for. If you click "Add to library," it'll become part of your collection. The button will then turn into "Read now," so you can start right away. This is the fastest way to find a specific title you're looking for.
2. Browse any of Blinkist's 27 categories
When you click "Discover" in the library, a big category overview will expand. It looks like this:
The 27 book categories on Blinkist are:
Entrepreneurship & Small Business
Politics
Marketing & Sales
Science
Health, Fitness & Nutrition
Personal Growth & Self-Improvement
Economics
History
Communication Skills
Corporate Culture
Management & Leadership
Motivation & Inspiration
Money & Investments
Psychology
Productivity & Time Management
Sex & Relationships
Technology & the Future
Mindfulness & Happiness
Parenting
Education
Creativity
Religion & Spirituality
Biography & Memoir
Philosophy
Career & Success
Nature & Environment
Society & Culture
If you click on any one of them, you'll see an assortment of books about that topic. This is useful if you're searching for more information about a specific idea, but not a particular book. You can quickly collect multiple titles by scrolling and pressing "Add to Library" for each book you find interesting.
The category pages are clustered into trending blinks, recently added summaries, and featured audio versions. If you click "See all blinks on…" at the bottom of the page, you'll get an alphabetically ordered list, which is neat too.
3. Check out the popular books section
On the "Discover" screen, there's a "See popular titles" button in the top right corner. The page you land on if you click it looks like a category overview page, but is grouped into the most read blinks on the site, a few editor's picks, and the latest summaries.
This page is useful to fill your library in the beginning and get an overview of the basics in various topics.
4. Discover the most recently added books
As a power user, this is my favorite option to find new titles. In the "Discover" screen, click "See recently added titles" next to the "Popular" button.
If you only want to catch up on what's new and quickly add the latest summaries to your library, this is the option to use. I usually just scroll through and add to my library what sounds interesting.
Now that you know how to add summaries, let's see what it's like to read them!
If this is all you've wanted to know, and you now want to go right ahead and start a completely risk-free 7-day trial of Blinkist, you can use the button below to get started (and secure an extra 35% off should you decide to keep your subscription).
You'll also support Four Minute Books at no extra cost to you, as we'll receive a small commission for referring you. Thank you! If you haven't made up your mind yet, just read on for the rest of our detailed Blinkist explainer.
Blinkist Main Features: Reading Summaries
If you click on any title in your library, you'll go to the first blink. As soon as it loads, the entire set of blinks will be saved in your browser, meaning even if you now go offline, you'll still be able to read the full summary. The reading interface is clean and free of distractions.
It looks like this:
No matter how many blinks the book has, usually from 5 to 15, they always follow the same structure:
The first blink is called "What's in it for me?" and helps you clarify if the summary is right for you.
Then, all the blinks covering the book's content follow.
The last blink is called "Final summary" and contains a recap along with some actionable advice.
On the left, you'll see the option to return to your library, a table of contents that remembers which blinks you've already read, and the option to adjust the text size. At the bottom of each blink, you'll see arrows to move to the next or previous one.
The Blinkist reader is very simple, but that's exactly why I love it. No distractions, just focus.
Blinkist Main Features: Audio Summaries
At the bottom of each blink is also where you'll find the audio player, which works in the web app too. If you press "Play," an actual human will read the blinks to you.
Pages turn automatically and the audio continues until the summary is finished unless you pause it. There's also a knob to adjust the volume.
While the audio experience isn't as fully integrated as it is inside the mobile app, it's nice to have this option on your desktop PC or laptop as well.
Blinkist Main Features: Highlighting & Sharing
If you use your cursor to highlight some text in any blink, a mini menu will pop up. It has three options:
Share to Facebook
Share to Twitter
Highlight
The first two allow you to share a specific insight from any summary with your friends. The last one will mark that passage with a yellow background and save it as a highlight.
Even if you never read the same summary again, highlighting is useful, because it allows your brain to subconsciously filter the information you'll remember. I always highlight whatever jumps at me when I read on Blinkist. For more information on the science of reading, you can check out my 20-page guide on the topic.
From your library, you can also click "Highlights" in the top navigation bar and browse your collection. It looks like this:
Sometimes, it's nice to scroll through them by book or even by date to get inspired. Those are the main features of Blinkist. Let's look at some advanced stuff!
Thank you for reading this far! Ready to jump in and try Blinkist? Use the button below to get started and snag a sweet 35% off should you decide to keep your subscription after your totally risk-free one-week trial. Comes with free support of Four Minute Books at no extra cost (we're an affiliate). If you want to know more first, read on for the remainder of our "What is Blinkist?" explainer.
Blinkist Advanced Features: Syncing to Evernote & Kindle
If you click on "You" in the top right corner, then "Settings," then choose the "Connected services" tab, you'll see two options:
Evernote connect
Kindle connect
The first allows you to sync all your highlights into a specific Evernote notebook and therefore makes your highlights searchable. You can now copy and paste them anywhere and quickly find bits you only remember fragments of.
This is what the final result looks like in Evernote:
The second gives you the "Send to Kindle" option we mentioned in the beginning, which allows you to save summaries forever and bring them anywhere on your Kindle. You'll get an exact copy of the summary in the right format, which you can now read offline on your Kindle wherever you go.
They're both Premium features and I've used them repeatedly.
Blinkist Extras: Wishlist
Also under the "You" menu, you'll see an option called "Wishlist." This is a neat little gimmick where users can vote for the books they most want the team to summarize. You can scroll through and upvote any book you'd like to see on the platform.
You can also search for specific titles and help them move up through the ranks by casting the first vote! It'll usually take a couple of weeks or even months, but, eventually, the team gets around to them. Warren Buffett's biography The Snowball is a good example of a book that was in the top spot, then got added.
Those are all the features you can get access to with a Blinkist Premium subscription. While I think it's worth paying for, there's a neat way to try it for a week or more for free. All you have to do is refer one friend.
Blinkist Extras: Refer Friends For Free Weeks Of Premium
The very top option in the "You" section is "Invite Friends." On the page it shows you, you'll see your very own, unique referral link. It has this structure:
http://blinki.st/35999d1c5d43
You can choose to share it via Facebook, Twitter, or just copy the link itself. If you send it to your friends via WhatsApp, email, etc., and they sign up, they will get an extra free week of full access, and so will you.
From Blinkist's very own support section:
For every direct sign-up through the link, your friend will get an extra week of trial access and you'll also get an extra week tacked on to your account if you're a basic user.
This is an amazing way to keep trying the app longer and then make up your mind about getting Premium later.
Thank you for reading this far! If those features and extras have made you curious, please use the button below to sign up for Blinkist. You'll support this site at no extra cost in the process by automatically letting them know we've referred you, and we'll get a small commission should you keep your subscription.
The trial lasts 7 days, however, and is completely free! And now, on to the rest of our explainer for what Blinkist is!
Blinkist Web App on Desktop vs. Mobile App
When you're a Blinkist Premium user, you'll have access to all features both on the web app and the version on your phone. Which one is better? That's mostly a matter of subjective preference. It also depends on what situation you're using Blinkist in.
When you're at home or on your laptop anyway, it's nice to read on a larger screen. Sharing and setting up extras, like the Evernote and Kindle connections, are also a lot easier.
But when you're on the go, for example commuting, at the office, or traveling, the app is often quicker to use. For a service that wants to help you fit reading into your busy life, the app really is the main show. But, as we said, the web app has its benefits too.
Blinkist Cost: Monthly vs. Annual Plan & Discounts
The month-to-month option is the most flexible, since you can cancel it anytime, but at $12.99 it's also twice the price of an annual subscription. If you're not sure if paying for the full year is worth it, sign up for a free 7-day trial, then try to extend that with one or two referrals. This way, you've got nothing to lose.
At $6.67 per month, you would only pay $80 per year for full access to over 5,500 book summaries in text and audio. They even keep adding over 40 titles each month. That's amazing value for the money, if you ask me. But if you use our exclusive Blinkist discount code, you'll get another 35% off. As a result, you will only pay about $4 per month or about $0.14 per day. That's the cheapest possible price for Blinkist. You won't find a better deal anywhere else, guaranteed.
Here's the real question:
How much would you pay to be able to read a book a day? Because that's the essence of what Blinkist allows you to do.
Many colleges charge $200,000+ for a degree. With this, you can access the world's knowledge in your pocket for a few cents a day. When it comes to value for the money, Blinkist is the best book summary service out there. I highly suggest you give it a try.
What is Blinkist? Now you know!
Blinkist is a premium book summary service helping you digest the key insights of books in 15 minutes.
Its main features are the simplistic Blinkist reader, which makes reading summaries easy, audio versions for most of their summaries, and highlighting and sharing what you learn.
With the library as your home base, several modes of discovery, and additional tools for advanced users, like syncing highlights to Evernote and exporting summaries to Kindle, Blinkist offers a straightforward experience.
Finding new summaries is a matter of seconds, the reader is easy on the eyes, and audio is a nice addition to the web app. The price is cheap both compared to other book summary services and from an absolute perspective.
I hope this article and video helped you understand what Blinkist is, how it works, and whether it can help you reach your reading goals. If you want more information, you can check out my detailed review of the app or sign up for a risk-free 7-day trial.
If this article was useful for you, I would appreciate it if you used my affiliate link to sign up. It means I will get a commission for recommending Blinkist to you. You'll also get 35% off. But if not, that's okay too. In that case, you can just go to their homepage.
If you have any doubts, concerns, or unanswered questions, contact me through this page. I'll answer them as best as I can and help you make up your mind. And when you're not testing Blinkist, you can read more of our free book summaries on Four Minute Books.
Thank you for being here. Enjoy and keep reading!
Last Updated on November 29, 2022