Brené Brown is the world's #1 researcher on shame, vulnerability, and courage. An American professor, author, and podcaster born in 1965, Brené's work first received widespread public attention after her 2010 TEDx talk on "the power of vulnerability." If you're looking for the best Brené Brown quotes from her books and talks, you've come to the right place!
Despite covering important topics that affect all of us, Brené's research initially wasn't super popular among her academic peers. After her TED talk went viral, however, it became clear that mainstream demand to learn more about shame and vulnerability was huge. That's why Brené started publishing books, and so far, 6 of her 8 main titles have become major bestsellers.
Want a list of all of Brené's books so you can better understand the quotes and their context? Download our free PDF, print it, and learn more about her work. Or save it for later and read it whenever you want!
To give you an overview of her work and best ideas, we've compiled the most popular Brené Brown quotes for you in an organized list. Besides the top 10 lines based on reader votes, we've also included the top 5 quotes from 7 of her books each, as well as some custom-designed images for you to share your favorites on social media.
Navigating this list is as easy as clicking on the section that most interests you in the table of contents below. To share any quote, just highlight the text, and sharing options will appear. You can also use the images towards the end of this list.
Now, without further ado, let's jump into the best quotes from Brené Brown!
---
The 10 Most Popular Quotes From Brené Brown
Would you like to know which Brené Brown quotes are the most popular? I did some analysis for you. Below, you'll find the top 10 quotes from Brené, based on real reader votes on Goodreads. The highest-ranking quote has almost 2,000 likes, while #10 still has around 600 votes.
Here are Brené Brown's 10 best quotes, according to readers:
1. "Owning our story can be hard but not nearly as difficult as spending our lives running from it. Embracing our vulnerabilities is risky but not nearly as dangerous as giving up on love and belonging and joy—the experiences that make us the most vulnerable. Only when we are brave enough to explore the darkness will we discover the infinite power of our light."
2. "Love is not something we give or get; it is something that we nurture and grow, a connection that can only be cultivated between two people when it exists within each one of them — we can only love others as much as we love ourselves."
3. "Authenticity is a collection of choices that we have to make every day. It's about the choice to show up and be real. The choice to be honest. The choice to let our true selves be seen."
4. "You are imperfect, you are wired for struggle, but you are worthy of love and belonging."
5. "Vulnerability is the birthplace of innovation, creativity and change."

6. "I define connection as the energy that exists between people when they feel seen, heard, and valued; when they can give and receive without judgment; and when they derive sustenance and strength from the relationship."
7. "Courage starts with showing up and letting ourselves be seen."
8. "Because true belonging only happens when we present our authentic, imperfect selves to the world, our sense of belonging can never be greater than our level of self-acceptance."
9. "Vulnerability sounds like truth and feels like courage. Truth and courage aren't always comfortable, but they're never weakness."
10. "Vulnerability is the birthplace of love, belonging, joy, courage, empathy, and creativity. It is the source of hope, empathy, accountability, and authenticity. If we want greater clarity in our purpose or deeper and more meaningful spiritual lives, vulnerability is the path."
---
The 35 Most Important Brené Brown Quotes
Since, as of right now, Brené has published 8 major books, most of them New York Times bestsellers, I thought it'd be cool to compile the top quotes from each book. Unfortunately, her first book, Women and Shame* (2004), is nearly impossible to find. So instead, I picked the top 5 quotes from her 7 most popular books in chronological order, also based on reader votes.
Therefore, in the below list, quotes 11-15 are the most popular quotes from I Thought It Was Just Me (2007), 16-20 are from The Gifts of Imperfection (2010), and so on. Within each group of 5 quotes, the first has received the most votes, and the number of likes goes down from there. I've excluded any quotes listed above already, most of which come from Daring Greatly, The Gifts of Imperfection, and some of Brené's talks. I've also added some emphasis in the longer passages on the lines I think stand out the most.
Here are the top Brené Brown quotes from 7 of her bestselling books:
11. "Shame corrodes the very part of us that believes we are capable of change."

12. "If you want to make a difference, the next time you see someone being cruel to another human being, take it personally. Take it personally because it is personal!"
13. "Courage is a heart word. The root of the word courage is 'cor' — the Latin word for heart. In one of its earliest forms, the word courage meant 'To speak one's mind by telling all one's heart.' Over time, this definition has changed, and today, we typically associate courage with heroic and brave deeds. But in my opinion, this definition fails to recognize the inner strength and level of commitment required for us to actually speak honestly and openly about who we are and about our experiences — good and bad. Speaking from our hearts is what I think of as 'ordinary courage.'"
14. "Compassion is not a virtue — it is a commitment. It's not something we have or don't have — it's something we choose to practice."
15. "The biggest potential for helping us overcome shame is this: We are 'those people.' The truth is…we are the others. Most of us are one paycheck, one divorce, one drug-addicted kid, one mental health illness, one sexual assault, one drinking binge, one night of unprotected sex, or one affair away from being 'those people' — the ones we don't trust, the ones we pity, the ones we don't let our kids play with, the ones bad things happen to, the ones we don't want living next door."
16. "We cannot selectively numb emotions. When we numb the painful emotions, we also numb the positive emotions."
17. "The dark does not destroy the light; it defines it. It's our fear of the dark that casts our joy into the shadows."
18. "Understanding the difference between healthy striving and perfectionism is critical to laying down the shield and picking up your life. Research shows that perfectionism hampers success. In fact, it's often the path to depression, anxiety, addiction, and life paralysis."
19. "Faith is a place of mystery, where we find the courage to believe in what we cannot see and the strength to let go of our fear of uncertainty."
20. "Perfectionism is a self destructive and addictive belief system that fuels this primary thought: If I look perfect, and do everything perfectly, I can avoid or minimize the painful feelings of shame, judgment, and blame."
21. "If we can share our story with someone who responds with empathy and understanding, shame can't survive."

22. "When I look at narcissism through the vulnerability lens, I see the shame-based fear of being ordinary. I see the fear of never feeling extraordinary enough to be noticed, to be lovable, to belong, or to cultivate a sense of purpose."
23. "What we know matters but who we are matters more."

24. "The willingness to show up changes us. It makes us a little braver each time."

25. "Numb the dark and you numb the light."

26. "Compassionate people ask for what they need. They say no when they need to, and when they say yes, they mean it. They're compassionate because their boundaries keep them out of resentment."

27. "Vulnerability is not winning or losing; it's having the courage to show up and be seen when we have no control over the outcome. Vulnerability is not weakness; it's our greatest measure of courage."

28. "Just because someone isn't willing or able to love us, it doesn't mean that we are unlovable."

29. "There are too many people today who instead of feeling hurt are acting out their hurt; instead of acknowledging pain, they're inflicting pain on others. Rather than risking feeling disappointed, they're choosing to live disappointed. Emotional stoicism is not badassery. Blustery posturing is not badassery. Swagger is not badassery. Perfection is about the furthest thing in the world from badassery."

30. "Integrity is choosing courage over comfort; choosing what is right over what is fun, fast, or easy; and choosing to practice our values rather than simply professing them."

31. "Stop walking through the world looking for confirmation that you don't belong. You will always find it because you've made that your mission. Stop scouring people's faces for evidence that you're not enough. You will always find it because you've made that your goal. True belonging and self-worth are not goods; we don't negotiate their value with the world. The truth about who we are lives in our hearts. Our call to courage is to protect our wild heart against constant evaluation, especially our own. No one belongs here more than you."

32. "True belonging is the spiritual practice of believing in and belonging to yourself so deeply that you can share your most authentic self with the world and find sacredness in both being a part of something and standing alone in the wilderness. True belonging doesn't require you to change who you are; it requires you to be who you are."

33. "People often silence themselves, or 'agree to disagree' without fully exploring the actual nature of the disagreement, for the sake of protecting a relationship and maintaining connection. But when we avoid certain conversations, and never fully learn how the other person feels about all of the issues, we sometimes end up making assumptions that not only perpetuate but deepen misunderstandings, and that can generate resentment."
34. "You are only free when you realize you belong no place — you belong every place — no place at all. The price is high. The reward is great."

35. "But what we know now is that when we deny our emotion, it owns us. When we own our emotion, we can rebuild and find our way through the pain."

36. "I define a leader as anyone who takes responsibility for finding the potential in people and processes, and who has the courage to develop that potential."

37. "At the end of the day, at the end of the week, at the end of my life, I want to say I contributed more than I criticized."

38. "Clear is kind. Unclear is unkind."

39. "If you are not in the arena getting your ass kicked on occasion, I'm not interested in or open to your feedback. There are a million cheap seats in the world today filled with people who will never be brave with their lives but who will spend every ounce of energy they have hurling advice and judgment at those who dare greatly. Their only contributions are criticism, cynicism, and fearmongering. If you're criticizing from a place where you're not also putting yourself on the line, I'm not interested in what you have to say."

40. "Show up for people in pain and don't look away."

41. "Avoidance will make you feel less vulnerable in the short run, but it will never make you less afraid."

42. "Science is not the truth. Science is finding the truth. When science changes its opinion, it didn't lie to you. It learned more."

43. "I am responsible for holding you accountable in a respectful and productive way. I'm not responsible for your emotional reaction to that accountability."

44. "Good friends aren't afraid of your light. They never blow out your flame and you don't blow out theirs — even when it's really bright and it makes you worry about your own flame."
45. "People will do almost anything to not feel pain, including causing pain and abusing power."

---
More Brené Brown Quotes
At this point, the best way to find more good Brené Brown quotes is for you to read one of her books. While you can get a quick look at all of them on our Brené Brown books list, I'd recommend starting with Atlas of the Heart* (2021), her latest major work. Here's a brief overview of the book, along with a link to our summary and an affiliate button to buy yourself a copy on Amazon.
Favorite Quote
"I want to be in the arena. I want to be brave with my life. And when we make the choice to dare greatly, we sign up to get our asses kicked. We can choose courage or we can choose comfort, but we can't have both. Not at the same time." — Brené Brown
The Book in One Sentence
Atlas of the Heart* maps out a series of human emotions and their meaning and explores the psychology behind a human's feelings and how they make up our lives and change our behaviors, and how to build meaningful connections by learning how to deal with them.
Why should you read it?
This book will help you understand your emotions and how they affect your behavior. It provides a series of definitions for our most common feelings. It also includes examples of situations in which they influence our decisions, thus making it easy for readers to understand where things go wrong and how they can quickly improve their approach to similar situations. If you want to learn more about your feelings and become better at navigating them, read this book.
Key Takeaways
Some of the most common toxic traits of all humans are comparison, internalizing anger, and disappointment.
To let go of negative emotions, you have to become vulnerable and allow meaningful connections to form.
Knowing our emotions makes it easier to turn them into strengths and do away with our weaknesses.
If you want to learn more, you can click below or get a copy for yourself.
_____
---
The Best Brené Brown Quotes for Sharing on Social Media
If you want to post any of the above quotes to social media, you can do so with our "highlight and share" feature. That said, we also made some custom images for you to easily tap and share. Some are optimized for Facebook, Twitter, and LinkedIn, others follow Instagram's classic square format or Pinterest's more vertical layout.
For the backgrounds, we used some images of Brené Brown speaking, from her media kit, and a mix of photos from Unsplash. Happy sharing!
Share on Facebook, Twitter, and LinkedIn
Share on Instagram
Share on Pinterest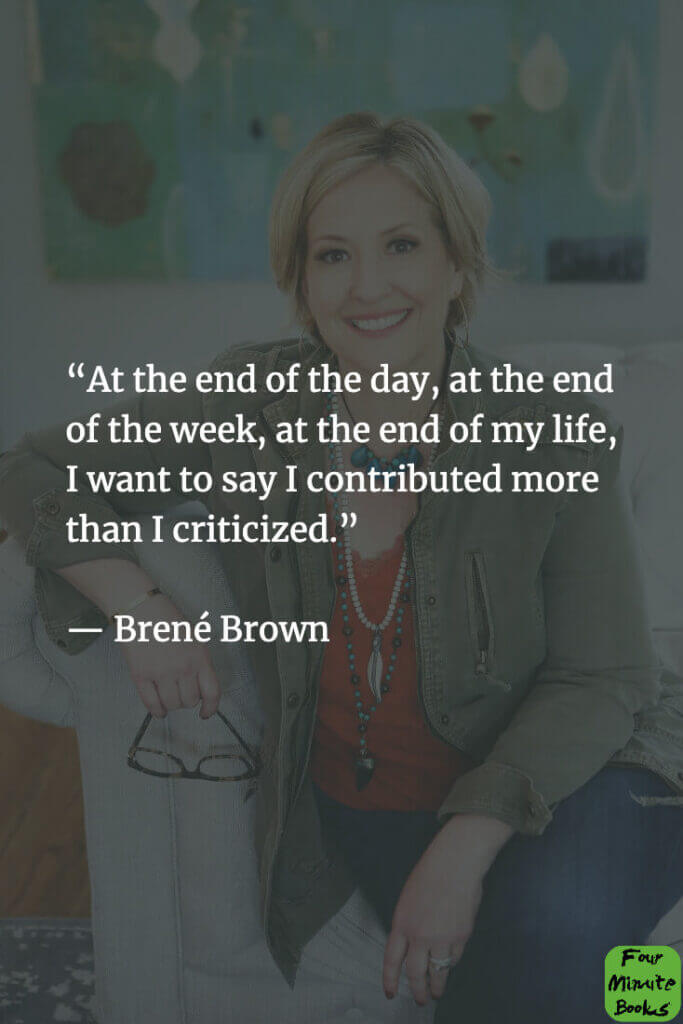 ---
Conclusion
That's it for our list of the 45 best and most popular quotes from Brené Brown. What do you think? Did we do a good job? Did we miss your favorite? Tag us on Twitter and let us know which other quote we should include, and we'll update this list as we go.
Stay strong, and remember: Vulnerability is not weakness. It is courage.
---
Other Quote Lists
Looking for more quotes from interesting people and lines from great books? Here are all quote lists we've hand-selected for you so far:
---
Rate this book!
This book has an average rating of

5

based on

1

votes.
Last Updated on May 31, 2023