Shortform is a book summary service offering in-depth book guides to over 1,000 of the best non-fiction books. They focus on detail, logic, critical assessment of the information, and helping you implement what you learn via concrete exercises. In our comprehensive Shortform review, we'll help answer any and all questions you might have about this app, like…
Is Shortform the best book summary app? How is it different from Blinkist? Is it better? Worse? How does it work? How much does it cost? And is it worth the price? In this review, we'll find the answer to all these questions as we take an in-depth look at the book summary app Shortform.
Besides a quick tl;dr summary and in-depth walkthrough of the app, we'll also show you the most popular books on their platform, how much a subscription costs, what users say, and how it compares to Blinkist, their main competitor. As usual, you can use our convenient table of contents below to jump to whatever section might interest you the most! Let's go!
Shortform Review Summary (FAQ)
Is Shortform worth it?
Shortform is a great book summary app. They provide book guides instead of short summaries as they also give exercises and provide information from other sources and books. If you're serious about reading and implementing books in less time, then it's absolutely worth it. The AI browser extension that can summarize anything* and comes free with the service is a nice cherry on top.
Is Shortform free?
Shortform isn't free, but they provide a 5-day free trial* where you can read any of the book guides in their catalog. You can also read two books for free – Deep Work and How to Win Friends and Influence People.
Does Shortform have a good user experience and interface?
Shortform is simple to use and navigate. However, it can be a bit slow and glitchy sometimes. We haven't encountered any major issues and they are consistently working to improve the app experience. Once you get the hang of it, it should be pretty easy to use.
What platforms is Shortform available on?
Shortform is available on the Web, iOS, and Android. The interface is similar on every platform. We'll take a look at how it works later in the review.
What are some Shortform alternatives?
There are many book summary apps like Instaread and getAbstract that we have reviewed before, but the biggest competitor is Blinkist. We will compare both in the Shortform vs Blinkist section of the review.
If this is all you've wanted to know, and you now want to start a free trial of Shortform right away, you can use the button below to get started. You'll get full access for 5 days and 20% off if you keep your subscription. You'll also support Four Minute Books at no extra cost to you, as we'll receive a small commission for referring you. Thank you! If not, read on for the rest of our detailed Shortform review.
Shortform Overview
Shortform claims to be more than just a book summary app because of the following reasons:
They provide book guides with in-depth information and actionable exercises.

They simplify the books and organize them in an easy-to-understand order without losing any critical information.

They cross-reference other books and sources to connect ideas under the same topic.
They also have an AI extension* that can summarize any piece of text or video, and it comes free with the service.
How does Shortform work?
You can install the app and read the two books that they provide for free. You may sign up using Google, Facebook, Apple, or Email. Once you sign up, you are promoted to select your preferred topics and learning goals. After that, their algorithm suggests a few books for you to get started with. If you wish to try the full app with access to all the books, you can activate the 5-day free trial.
There are five tabs and one profile menu in the app. We'll explore each one by one:
1. The Discover Tab
The Discover tab has the following sections:
You can find the list of all the book summaries that you've started reading but haven't marked as finished. It shows you the completion progress of each book in percentage.
Based on your topic preference and book selection, the app suggests new book summaries to read.
A list of all the latest titles on the app so you can stay up to date with the new book summaries they release.
A list of the most popular book summaries on the app. Here, you may explore a new genre or a new book that you've never heard of before.
The list of all articles released by the app. These articles are well-researched and well-written. They provide all the resources they mention and cover a wide range of topics.
2. The Books Tab
The Books tab lists all the book summaries in the following ways:
You can browse book summaries under your chosen category to find the kinds of books you're looking for.
Here you'll find the full list of all the book summaries in the app sorted by most popular books.
3. The Articles Tab
Similar to the Books tab, the Article tab lists all the articles by Shortform in the following manner:
The articles are organized under the same categories as book summaries.
A list of all the articles published by Shortform sorted by the latest articles.
4. My Library Tab
My Library is your personal tab where you can find the books you've engaged with under the following sections:
A list of all the book summaries that you've started but not finished yet.
All the book summaries that you've marked as a favorite.
A list of all the book summaries that you've marked as finished.
5. The Search Tab
The Search tab lets you search the book summaries or articles you're looking for using keywords. It also shows you the Categories, Popular Books, and Articles sections once again.
Thank you for reading this far! Ready to jump in and try Shortform? Use the button below to get started and snag a sweet 20% off should you decide to keep your subscription after your totally risk-free 5-day trial. You'll even support Minute Books at no extra cost (we're an affiliate). If you want to know more first, read on for the remainder of our review.
Shortform Features
Before you dive into a book summary, you can read about a book to decide if you want to start reading it.
Once you start a book, you have access to the following:
Navigating
Each book summary starts with a 1-page summary followed by the full book guide with chapters and exercises broken into several parts. You can also download the summaries in PDF format.
Formatting
You have formatting options to customize your reading experience. Adjustable settings include the font size, font family, line height, and margins. You can always reset the settings to default if you don't like the changes. There's also an option to switch between dark mode and light mode.
Listening
You can listen to the book summary and change the speed of the audio. There's also an option to download the audio for offline access. Some audios are AI-generated while others are narrated by humans. They're constantly bringing new human-narrated audios to make the experience better.
Highlighting and Noting
You can select text and then highlight it, add a note to it, or share it. These highlights and notes are saved in your profile which you can revisit later. You can also add books to your favorites so they all are easily accessible as a list. Plus, there's an option to sync your highlights with Readwise and Notion.
Reading
You not only get to read summarized versions of the books, but you also get notes and commentary. Shortform cross-references other resources to support the information and provide a holistic view of the topic. They may also re-arrange the topics covered in the book in a more helpful order.
Applying
The book guides come with exercises and questions to answer for yourself so you can not only learn but apply the books in your life.
Discussing
In the end, there's a discussion section where you can start a discussion or comment on another discussion.
Shortform Selection
Shortform has over a thousand book summaries. They keep adding more summaries each week. They organize their books and articles under the following categories:
Arts / Design

Biography / Memoir

Business

Career / Success

Communication

Economics

Education

Entrepreneurship

Fiction

Food

Health

History

Lifestyle

Management / Leadership

Marketing

Money / Finance

Motivation

Parenting

Philosophy

Politics

Productivity

Psychology

Relationships

Sales

Science

Self-Improvement

Society / Culture

Spirituality

Sports

Technology
If you search for a book and can't find it in their catalog, you can request a summary of that unavailable book.
Curious to discover all the great book guides on Shortform? Use the button below to sign up and start a free trial. You'll support this site at no extra cost in the process by automatically letting them know we've referred you, and we'll get a small commission should you keep your subscription — at no less than 20% off, that is! Read on for a selection of their most popular books.
What are the most popular books on Shortform?
Shortform offers the first two books on the list for free and others are available with the paid plan which includes a 5-day free trial:
Shortform AI
On top of all its book guides, implementation exercises, and cross-references between books, in 2023, Shortform launched a new feature. Actually, it is a separate, standalone tool. A browser extension that can summarize any piece of content. It's called Shortform AI.*
How does it work?
You ​install the Shortform AI Chrome extension from the Chrome Web Store.
You log in to Shortform.
Now, you can click the Summarize-icon on any web page, and the AI will get to work for you!
For every piece of content, the extension generates 4 sections:
A summary of the content in a few bullet points. The number depends on how long the content is.
Some context on the content in question. Think of this as background information on the overall situation. If it's an article about a scandal surrounding a political candidate, for example, the extension might give you a brief summary of their overall career to date here.
Additional resources. A short "Learn More" section with relevant links to other sources for further reading.
Counterarguments. Yes, the AI even generates some counterpoints to the case the piece you're looking at makes! This will help you think for yourself, weigh all arguments carefully, and not jump to conclusions.
The breadth of content on which the extension works is astonishing. Shortform AI* can summarize:
News articles
Blog posts
Long-form essays
Emails
Youtube videos (!)
Research papers
Google docs
Amazon reviews
Social media posts
…and a lot more! Basically, the AI extends Shortform's library to infinity — sort of. At the very least, it brings the power of a good summary well beyond their 1,000-book catalog.
Here are some personal examples I've tried to use it on. It works for complex articles about finance that help you become a better investor…
…long-form essays explaining huge societal and technological shifts affecting our future as a species…
…Youtube videos summarizing some of the greatest non-fiction books of all time (ahem)…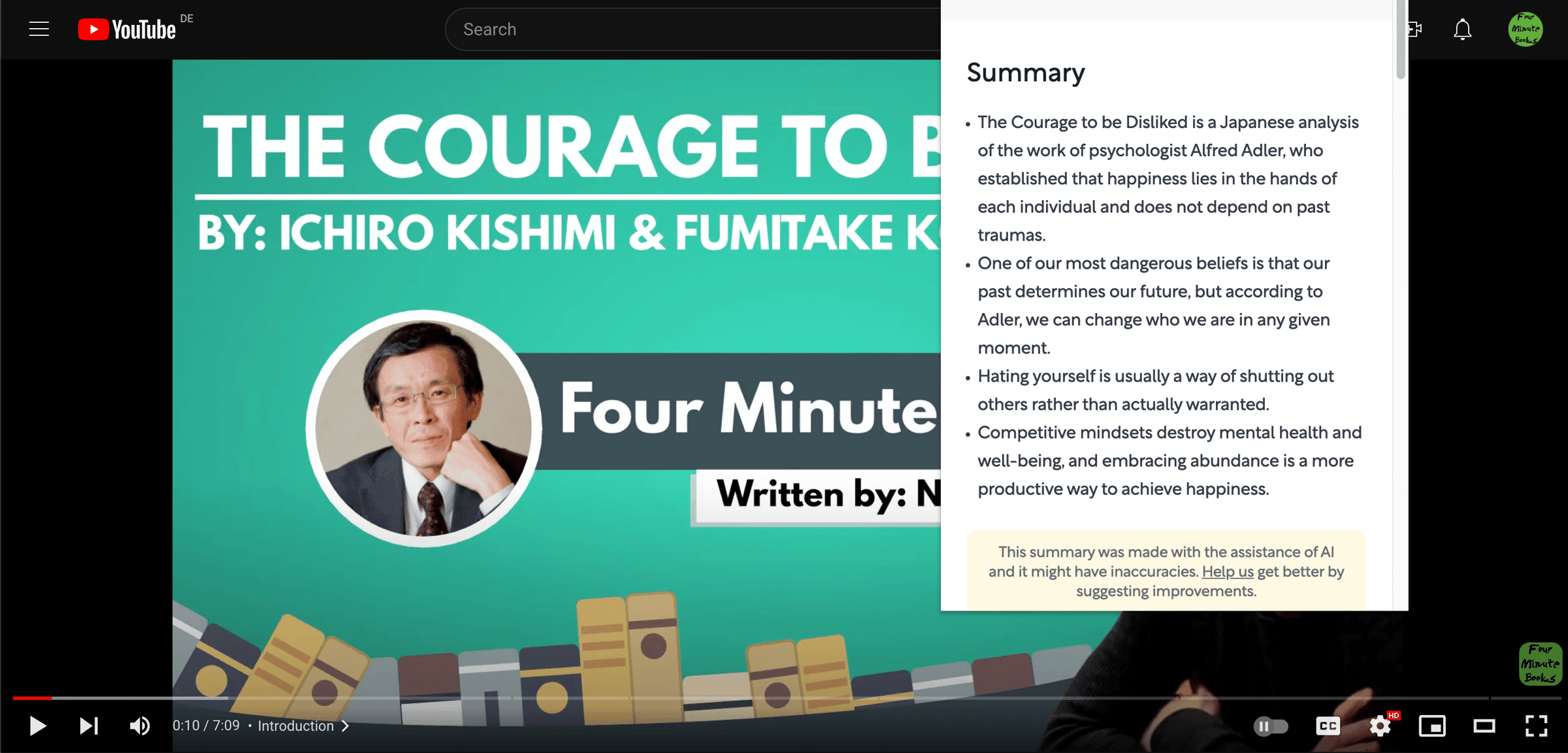 …3-hour-long podcast interviews with people you admire and want to learn from…
…and even foreign-language news articles about an issue you'll soon need to make a decision on!
Honestly, this tool is pretty impressive. And it's completely free as part of a standard Shortform subscription. The idea is that you'll learn a lot faster and understand everything much quicker when you start with a high-level summary, some valuable context, and the most important counterarguments.
If you want to get a tool that can summarize anything and everything, try Shortform AI. The easiest way to do so is to start a free 5-day trial of the service. You'll even get 20% off by going through our affiliate link (if you choose to stay).
How Much Does Shortform Cost? (Pricing)
Shortform comes with a 5-day trial that gives you access to all the books on the platform. After that, you'll pay $24 a month or $16.42 a month (if you pay annually). Both plans give you access to:
1000+ Book Guides

500+ Articles and Topic Guides

Web and Mobile App (iOS/Android)

Highlights and Notes

Audio Narrations

Community Discussions

PDF Downloads
That said, you can get an extra 20% off if you use our exclusive Shortform affiliate link. You can redeem that discount and start your free trial below.
The cheapest, fastest, and easiest way to start learning from great books on Shortform is to start a free trial and secure 20% off through our affiliate link. Try everything free for 5 days, then make up your mind.
Shortform Reviews by Users
At the time of writing, Shortform has received a 3.6 out of 5 rating on Google Play and a 4.4 out of 5 rating on App Store. Upon examining the reviews, here's what we have found:
Most of the bad ratings are about the app, and not about the content. As we have mentioned before, the app can be slow and glitchy sometimes, but they are fixing it and making it better. The number of complaints has been reducing in the last two years.

Some people have complained about being charged after the free trial was over. We tried canceling the free trial and we didn't get charged so there may be some particular cases that didn't get a satisfactory resolution.

Many of the 5-star-review users say that it is the best book summary app for them because of the depth of the summaries and the additional features we have mentioned in our review.
The reviews are quite polarizing because many users loved the content but some people were disappointed by the app or had billing problems. You can read all the reviews yourself at the links below:
Read Shortform Reviews on Google Play »
Read Shortfrom Reviews on App Store »
They don't reply to all reviews, but they do respond sometimes when there is some feedback that they want to reply to. It seems their team is listening and working on providing a better experience overall.
Nevertheless, we would suggest giving them a try since they are working on improving the app experience and the quality of their content is excellent.
Shortform vs Blinkist
Blinkist is the biggest competitor of Shortform. Blinkist has been many people's favorite book summary app for a long time. So how does it compare with Shortform? Let's find out.
Blinkist only summarizes books briefly in several blinks, whereas Shortform gives comprehensive book guides with summaries, cross-references, analysis, actionables, interactive exercises and discussions.

All audios are narrated by humans in Blinkist, whereas Shortform has some AI-generated audios and some human-narrated audios.

Blinkist only publishes book summaries, while Shortform also publishes exclusive articles as well.

At 5,500+ summaries on Blinkist vs. 1,000+ summaries on Shortform, Blinkist has the larger collection of titles.

Blinkist's summaries are shorter. Shortform's summaries are much longer and more comprehensive. Depending on your preference and time constraints, you may prefer one over the other.

Both Blinkist and Shortform let you highlight text in book summaries, but Shortform also allows you to take notes along with that.

The Blinkist app is more usable and less glitchy than the Shortform app (for now).

Blinkist is cheaper than Shortform. Blinkist costs $14.99/month, while Shortform costs $24/month. If you get the annual subscription, Blinkist costs $7.49/month, while Shortform costs $16.42/month. That said, you can get additional discounts for both apps. Blinkist offers an extra 35% off, and Shortform offers an extra 20% off.
If you still aren't sure which one is right for you, you can start free trials on both apps. Once you read a few book summaries on each app, you'll know which one is best for you.
Final Verdict: Should You Use Shortform?
Out of all the book summary services we've reviewed, Shortform comes the closest to replacing actual books. If you're the kind of person who wants to get the absolute most out of any book you read, this might be the perfect tool for you.
The reason for that is that they produce book guides that not only include an in-depth summary but also come with additional references from other books and practical exercises to implement the books in your life.
Shortform may be for you if:
You're a lifelong learner or entrepreneur who prioritizes personal growth over shallow content consumption.

You want as much juice out of books as possible without reading the entire book.

You want a holistic overview of the topics discussed in the book from similar books and other references.

You are serious about applying the information in the book to your life with actionables and interactive exercises.

You'd rather spend more time on one book summary than reading more shorter summaries.

You'd like to highlight and take notes and then import them to Readwise or Notion.

You don't mind paying a little more for Shortform than you would for other book summary apps like Blinkist.
Overall, we are impressed with Shortform and can highly recommend it as a great book summary app. You can use it as your only source for reading books or as a complimentary resource if you have more time.
Thank you for reading our Shortform review! We hope you found it helpful. If you like what you've seen and are excited to sign up, simply use the button below. You'll get a free 5-day trial and 20% off. We'll get a small commission for referring you at no extra cost to you. Thank you!
---
Other Reviews
Looking for our other reviews of the most popular book summary apps, tools, and services? Here's a list of all the reviews we've published so far:
Last Updated on September 8, 2023